Get to Know APTAMD's SSIG Chair, Kiyanna Monroe, SPT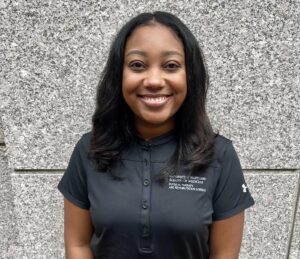 APTA Maryland's Student Student Special Interest Group (SSIG) has re-emerged following a lapse due to the COVID 19 pandemic. As many know, our PT and PTA students were severely affected by academic, financial and COVID- related stressors, and the ability for students to connect and engage with the chapter and national association was challenging. Now with our new leaders at the helm, the SSIG has reemerged and is ready to engage all PT and PTA students in Maryland.
We invite you to get to know our new SSIG Chair, Kiyanna Monroe, SPT. Kiyanna is a student at the University of Maryland School of Medicine Department of Physical Therapy and Rehabilitation Science
What are your goals in your new role as SSIG Chair for APTA Maryland?
As the SSIG Chair for APTA Maryland, my goals in this new role include increasing student involvement within the chapter, promoting diversity and inclusivity in the field, while also cultivating life-long relationships between physical therapy professionals and the community.
Why is it important to you to be a member of the Chapter and National APTA?
It is important that I am a member of the APTA Maryland Chapter and National APTA because I understand how resourceful the APTA can be. From educational events and networking opportunities, these resources provide insight and connections for students and practicing professionals.
What are your hobbies?
In my free time my hobbies include bowling and journaling!
Do you have a favorite quote?
My favorite quote that I live by daily is, "To thine own self be true."- William Shakespeare
Connect with APTAMD's SSIG