Implicit Bias Training is Required for License Renewal for all Health Occupations in Maryland
As part of APTAMD's commitment to diversity, equity and inclusion, the following courses were created to increase awareness of implicit bias and reduce its impact in patient care.
APTA Maryland implicit bias courses meet the state's mandate for license renewal for all health occupations in Maryland.
The content was created for our PT/PTA members but is appropriate for all. Currently, the only approved implicit bias training courses that earns continuing education (CE) hours for licensure renewal with the Maryland Board of Physical Therapy Examiners are the
APTA Maryland Implicit Bias Trainings
worth three contact hours (0.3 CEUs).
We have developed 2 on demand courses with plans to continue to the conversation with additional content.
Obtaining the Certificate of Completion
The Certificate of Completion for each course will be available for download or print once completed.
Fees (All sales are final)
Members: $25
Non-Members: $50
Open to all health professionals
If you join APTAMD within 90 days of purchasing the course, email us proof of membership and we will refund you $25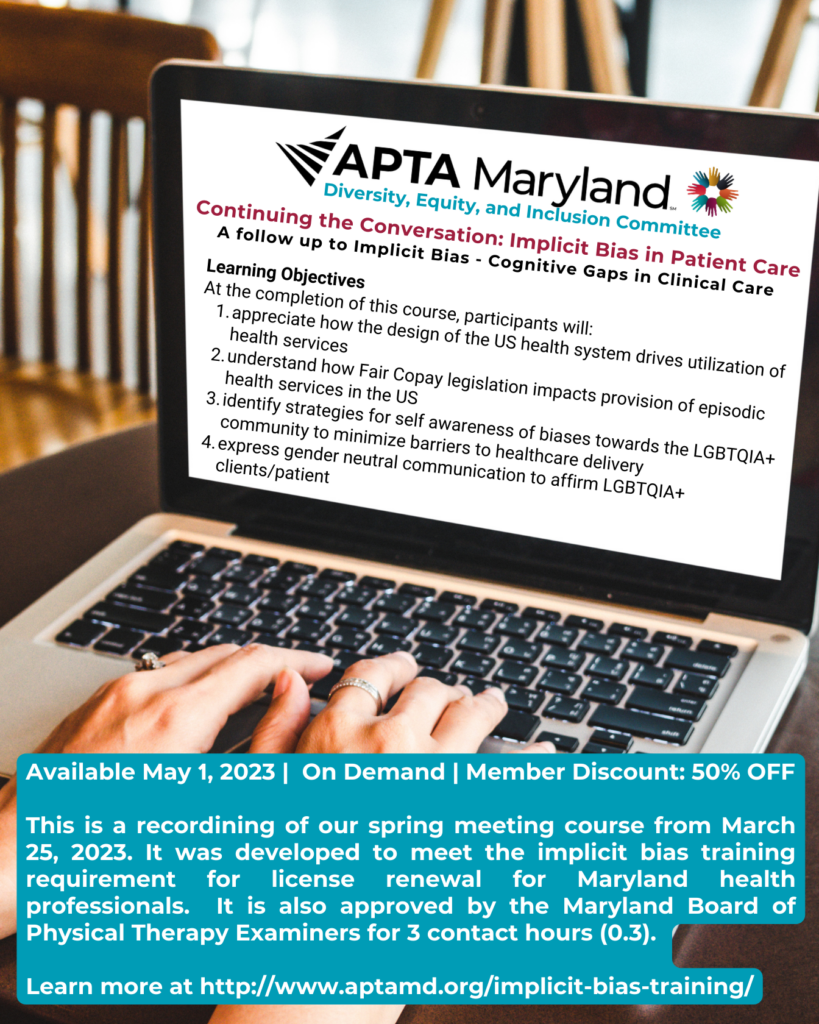 APTA Maryland Implicit Bias Courses
Course I: Implicit Bias – Cognitive Gaps in Physical Therapy Practice
Course II: Continuing the Conversation - Implicit Bias in Patient Care
Understanding the Mandate
Course I: Implicit Bias – Cognitive Gaps in Physical Therapy Practice
This course explores racial and ethnic disparities in health status, health care, and physical therapy. It will also review social vulnerabilities from these inequities including substance use disorders to treat acute and chronic pain.
This course was developed to meet the new implicit bias training requirement for Maryland health professionals. The goal was to develop a training for clinicians. Though the content was developed for physical therapy professionals, it is appropriate for any health occupation. This course was developed to fulfill the new requirement.
Learning Objectives:
Discuss racial bias and discrimination as it relates to inequities in pain experiences and pain care for black and brown communities
Recognize the impact of implicit or explicit bias in the management of patients with opioid use disorder
Discuss how the language we use stigmatizes patients with opioid use disorder
Identify one's own implicit biases.

Speakers
Roy J. Film, PT, MPT, DPT, OCS, FAAOMPT is an assistant professor and Director for Residency & Fellowship Education at the UMSOM Department of Physical Therapy & Rehabilitation Science (PTRS) where he teaches primarily in the areas of orthopedic PT, manual therapy, chronic pain, and evidence-based practice. Roy's interests focus on the conservative management of musculoskeletal conditions and helping to elevate clinical practice by teaching throughout the full spectrum of the field by teaching doctoral students, practicing clinicians, residents, and fellows. His personal mission is to help minimize the burden of the opioid crisis via promoting the use of evidence-based nonpharmaceutical pain management approaches such as physical therapy.
He is also the Director of the UMSOM Fellowship in Orthopaedic Manual Physical Therapy as well as the Academic Director for the University of Maryland Orthopaedic Physical Therapy Residency. He has been a recipient of the PTRS Faculty of the Year Award three times and the Adjunct Faculty of the Year Award twice. Roy was the 2017 recipient of the Distinguished Service Award from the American Physical Therapy Association of Maryland. He is the current Vice President of the APTA of Maryland and serves on accreditation bodies for PT residency and fellowship programs both nationally and internationally.
Dr. Film has served as the national taskforce leader for increasing access to non-pharmacological pain management through US Army Medical Command (MEDCOM) for the National Opioid Crisis Community Summit. He works with the United Nations World Health Organization Peer Review Group for Musculoskeletal Conditions as a reviewer for recommendations on the management of Low Back Pain, Osteoarthritis, Rheumatoid Arthritis, and Fractures.
On campus, he has served on the UMB Faculty Senate and the SOM Diversity Advisory Committee in addition to the many departmental service roles he has played in PTRS over the years.
Michael Ukoha, PT, DPT is a Physical Therapist at FOX Rehabilitation in Maryland and Washington DC. He currently serves as the Chair of the APTA Maryland DEI Committee and created the Live and Grow Mentorship organization to help diversify the field of physical therapy through the development of a support system for pre-PT students applying to DPT programs. He currently serves as a PT Moves Me Ambassador for APTA Maryland to further educate pre-pt students on the profession, career pathways within it, and expectations of practice in various clinical settings. Michael was presented with the APTA Maryland Student Leadership Award in 2016 for his contributions to the chapter as a student delegate for House of Delegates (HoD) and co-founder of the student special interest group (SSIG). Michael was awarded the Geriatrics and Gerontology Education and Research (GGEAR) award by the GGEAR program of University of Maryland Baltimore in 2017 for his graduating class. He was awarded Twenty Tigers in Their Twenties award by the Towson University Alumni Association in 2018 recognizing his consistent achievements and contributions that have positively impacted the Towson community and university. He is the 2021 Recipient of the Steven M. Levine Award from the APTA Maryland recognizing his current leadership at the state and national level, advocacy for the profession, and a role model for professionalism.
Course II: Continuing the Conversation - Implicit Bias in Patient Care
Understanding the Mandate