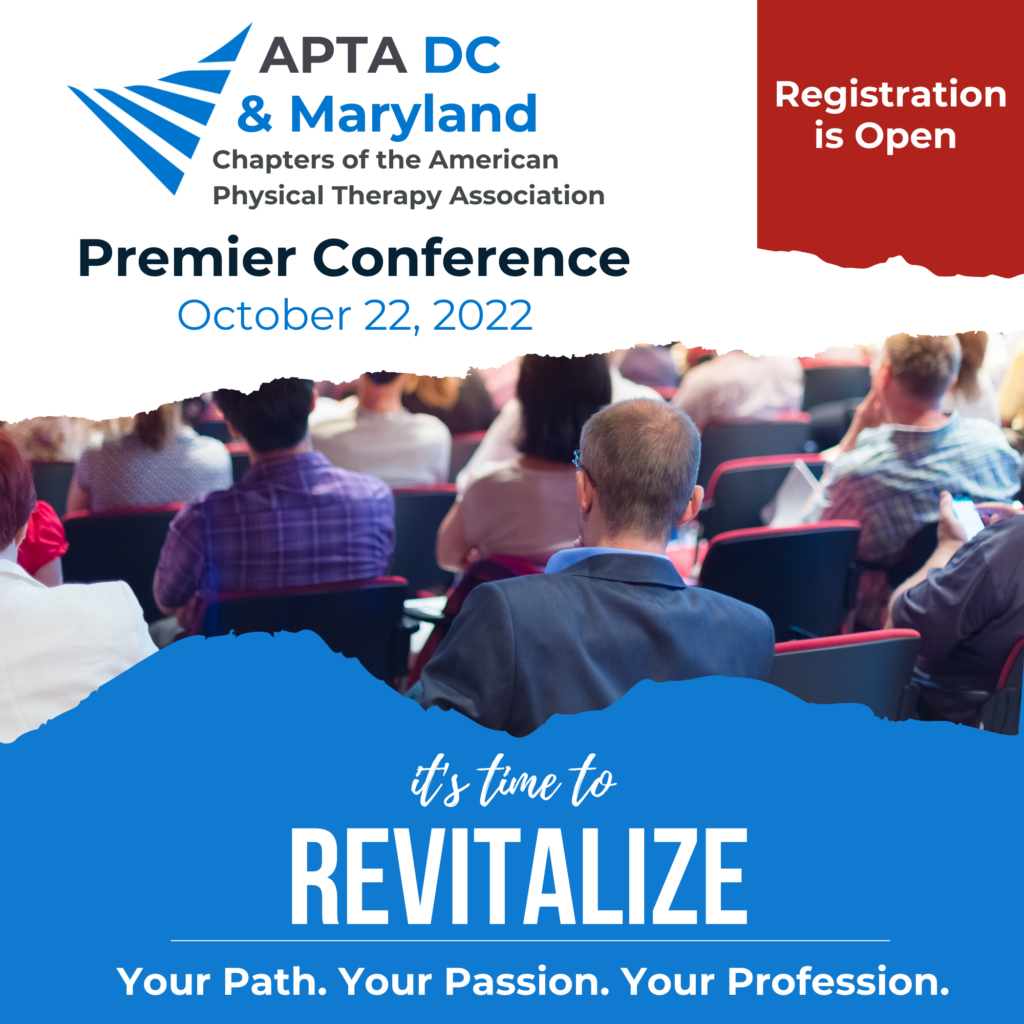 The APTA Maryland and APTA DC Premier Physical Therapy Conference is about advancing physical therapy practice by showcasing evolving, evidence-based, and innovative topics.
About the Conference
Hybrid Event In Person at Howard Community College in Columbia, MD and Virtual Particiaption
Exhibit Hall with Vendors and Recruiters
Special Keynote by Lisa VanHoose, PT, PhD, MPH, FAPTA, FAAPT: Structural and Social Determinants of Health and Education Are Changing Our Profession. How will APTA DC and Maryland Respond? (About)
Special Townhall with APTA President, Roger Herr PT, MPA
Research Proposal Submissions Extended thru August 3rd
Courses are 3-4 hours. They begin at 10:15 am and end at 3:00 pm.
See the full schedule below for details.
7:15–8:00 am     Registration & Exhibit Hall Open
8:00–8:45 am     Welcome & Townhall w/ Roger Herr    
8:45-9:45 am      Keynote w/ Lisa VanHoose
9:45–10:15 am   Break & Platform Presentations in Exhibit Hall 
10:15-12:15 pm  Education Sessions 
12:15–1:00 pm   Lunch w/exhibitors & Posters (Door Prize)
1:00–3:00 pm     Education Sessions Continued
3:00 – 3:15 pm   Break & Platform Presentations in Exhibit Hall
3:00 pm – 3:15 pm        Also in the Exhibit Hall, we will have:
PhyzioTrivia (A game to help leaders, students, and aspiring professionals to be able to learn, grow, achieve, and have fun.)
Special Table to Learn about Chapter Volunteer Opportunities
Scavenger Hunt Door Prize
3:15 pm – 4:30 pm  
5:00 pm – 7:00 pm 
APTAMD Board of Directors Dinner
Live Event only on October 22
(Earn up to six (0.6) CEUs)
Member $100
Non Member $175
Student $25
Live and On Demand Access to Full Conference Catalog
(Earn up to twelve (1.2) CEUs)
Member $150
Non Member $225
Student $30
Course Options - Select 1
(On Demand Access Available for Other Course Offerings)