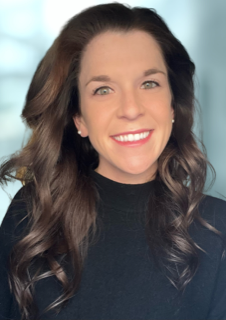 APTA Maryland is celebrating Limb Loss and Limb Difference Awareness Month April 1-30, 2023. The theme for the month is "Inspire to Elevate," and activities are built around four elements of that theme: Elevate Your Story, Elevate Your Voice, Elevate Your Community, and Elevate Your Potential.
This month we are spotlighting Michelle Jamin, PT, DPT as she shares her journey and how she is inspiring others interested in limb loss care. She has also outlined information for clinicians and clients below. 
For Clinicians
For Clients
For Clinicians
How did you get into this specialty?
I have known since around the 4th grade, right after September 11, 2001,  that I wanted to work with individuals with limb loss. I was fascinated by the prosthetic rehabilitation performed at Walter Reed and knew that was what I wanted to do when I grew up. I worked hard in undergraduate and graduate school to gain exposure to prosthetics through shadowing, volunteering with adaptive sports, and taking continuing education courses. I had a fantastic O&P course in PT school, instructed by Dr. Robin Waldron (Elon University), and a wonderful mentor, Cosi Belloso who helped guide me to this point. 
How do you recommend a clinician, who is interested in pursuing this field, get started? Get involved with adaptive sports! It's a totally different experience than a clinical setting and you learn real world skills that do not necessarily come up during didactic work. I would also find a local prosthetist and ask to show them to start learning about different prosthetic technology. Next, call me! One reason I opened Align Rehabilitation was to serve as a resource for providers interested in limb loss care. 
What do you add to your treatment plan for patients with phantom limb sensations and mental health disorders stemming from the limb loss? ** I would not word this as mental health disorders. I would word it as "What are some phantom limb pain interventions and how do you support the emotional recovery after someone has lost a limb"
I have had success with mirror therapy, electrical stimulation, and desensitization techniques such as: rubbing various textures on the residual limb, massaging and tapping the residual limb for phantom pain management. I also encourage my patients to wear compression throughout the day and build up their prosthetic wear schedule to assist with desensitizing the limb.
The loss of a limb is a life changing event and can affect a person's mental health in various ways. I always ask my patients to set a goal for when they are fully recovered so that they can remember that their hard work is preparing them for that goal. I recommend support groups, such as the Amputee Coalition, and try to connect them with another amputee with similar interests so they can see that there is so much more to someone than their amputation. If I am concerned about someone's well being, I will make a referral to a mental health specialist for a formal evaluation. A lot of times I just offer an ear. Providing someone a space where they can talk freely and to be heard is a powerful healing tool. 

Next, call me! One reason I opened Align Rehabilitation was to serve as a resource for providers interested in limb loss care. 908-458-3527
For Clients