In honor of Women's History Month, we are taking a look back at some of the amazing APTAMD and APTA women who have made an impact on the profession and defined who we are as a chapter. Each week in March we will highlight an amazing and phenomenal woman.
Florence Kendall #PTpioneer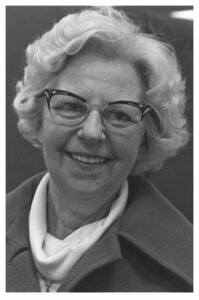 Florence Kendall (1910-2006)
From the Biography written by Richard Behles
Born in Warman, Minnesota on May 5, 1910 as Florence May Peterson, she was the eleventh child of Swedish immigrants Charles August and Mathilda Kruse Peterson. One month after her sixteenth birthday, Florence Peterson graduated as valedictorian from her high school in Mora, Minnesota. Following that, she advanced to the University of Minnesota, where she subsequently earned her Bachelor of Science degree in Physical Education in June, 1930. After a year teaching Physical Education in her native Minnesota, Florence ventured south to study physical therapy at the Walter Reed Army Hospital in Washington, DC, beginning there in September, 1931. While she was at Walter Reed, one of Florence's assignments was providing supplementary treatment for a young boy stricken with polio, who was a patient at the Children's Hospital in Baltimore under the care of the noted physical therapist Henry O. Kendall. On May 5, 1933, Florence and some of her colleagues visited Children's Hospital to hear Henry Kendall deliver a lecture. Although they had been distant partners involved with the same case for quite some time, this was the first occasion on which Florence and Henry met face-to-face.  Her stint as an assistant at Walter Reed was a short one, however, as Florence was among the victims of budgetary staff cuts, experiencing her own severance from the hospital on May 15, 1933. Fortunately, after only a few brief months, Florence returned once again to Children's Hospital in Baltimore, this time to accept a position on its staff. While she couldn't have known it at the time, that change would represent the most profound boost to her personal and professional life, an advancement far exceeding anything she ever could have imagined. Florence began working under Henry Kendall's direction in July 1933. In just a year and a half, they were married.
"By the time I arrived at Children's Hospital, Mr. Kendall had already established himself in the field with his treatment of patients with polio and low back pain. Our work did not evolve out of ambition, but more out of a sense of responsibility. When people referred to us as mentors and role models, I always considered it a privilege to serve in these roles." 2
That sentiment remained the hallmark of the Kendalls' work throughout their entire professional lives. Within just a few years, Henry and Florence co-authored U.S. Public Health pamphlets based on their studies of muscle evaluation and treatment procedures for polio patients. Their earliest publications also included 16 mm demonstration films. They rose to faculty positions at the University of Maryland and Johns Hopkins University soon thereafter, and remained in those posts for decades. In the early 1930's, the Kendalls represented one half of Maryland's four-person membership in the American Physiotherapy Association. The Association's national headquarters attempted to persuade them to establish a chapter in the state.
In the early 1930's, the Kendalls represented one half of Maryland's four-person membership in the American Physiotherapy Association. The Association's national headquarters attempted to persuade them to establish a chapter in the state. Eventually in 1939, Henry and Florence agreed to the effort. Hesitant at first with their young family beginning to grow, Florence gave in to the enthusiasm of other members who urged her to serve as the first president of the new Maryland chapter.
Henry and Florence continued their work on many fronts, including state legislation. It was due to their efforts that the Maryland state legislature enacted into law a 1947 bill that legally established the professional practice of physical therapy. Following that landmark development at the state level, Henry and Florence sought to share their expertise with the national audience. They published the first edition of their book MUSCLES : TESTING AND FUNCTION in 1949. Based primarily on their extensive work in polio research, the book set a whole new standard of detail for musculoskeletal examination and treatment. Their companion title POSTURE AND PAIN followed in 1952, in which they reported on their study of 12,000 cases to illustrate and diagnose numerous diseases and other painful conditions associated with faulty body mechanics and alignment.
"We didn't write the books to be famous. We wanted to share with others what we had learned in all our work with polio, posture, and painful conditions, especially low back pain. With both of us working full time, it was not an easy task to write a book; however it had to be done. It was bigger than either of us, but we were dedicated to sharing what we had learned." 3
Such was the measure of their concern for the better health and welfare of the world. A few years after the appearance of MUSCLES: TESTING AND FUNCTION, the Kendalls made the very difficult decision to leave Children's Hospital and set out on their own in private practice. Following this move, they no doubt were the principal inspiration for the APTA to create its new Self-Employed Section a few years later. APTA Maryland honored Florence and Henry in 1976 by establishing the Henry O. and Florence P. Kendall Award for Outstanding Achievement in Clinical Practice.
In the ensuing years, Florence's dogged perseverance kept her at the head of the profession, as she continued her writing, teaching, and delivering guest lectures at countless workshops around the country. As a registered parliamentarian, Florence assisted in drafting bylaws for the APTA at both the state and national levels. Florence received the Lucy Blair Service Award in 1971. She went on to deliver the 1980 Mary McMillen Lecture, and later became a Catherine Worthingham Fellow in 1986. She was the APTA's John H. P. Maley lecturer in 1997. The University of Maryland School of Medicine awarded Florence an honorary doctorate in 1999, topping off three others she'd already received from the University of Indianapolis, the Philadelphia  College of Pharmacy and Science, and Shenandoah University.
Florence maintained her enthusiasm, dedication, and busy schedule well into her nineties. Her life of service came to its conclusion when she died on January 28, 2006 at the age of ninety-five.
Dedicated, unflappable, and always a revered icon, mentor, and friend to countless numbers of students and colleagues, Florence Kendall in person and in print surely taught, energized, and most especially inspired an entire profession of competent and knowledgeable Physical Therapy practitioners.
REFERENCES
1. Florence P. Kendall Biography. The biography by Richard Behles was originally written for the Historical Collections Department Website. It describes the life of Florence Kendall and her career.
2. Florence Kendall, "Florence Kendall: What a wonderful journey", by Lucie P. Lawrence, PT MAGAZINE, VOL. 8 #5 (May 2000), p. 41.
3. Florence Kendall, "Florence Kendall: What a wonderful journey", by Lucie P. Lawrence, PT MAGAZINE, VOL. 8 #5 (May 2000), p. 42.
Carol Zehnacker #PTleader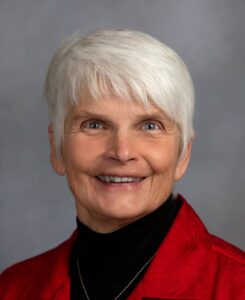 Carol Hamilton Zehnacker PT, DPT, MS was an inspired professional, a tenacious individual and a compassionate human being.


She was a member of the APTA for 56 years and served our profession in many ways at both the state and national levels as a leader, mentor, and advocate. She received her degree in Physical Therapy from Duke University and her Doctor of Physical Therapy from Widener University. 

Dr. Zehnacker's business skills and devotion to healing through physical therapy led her to found Amber Hill Physical Therapy in 1985. After fifteen years she sold the business, freeing her to pursue a Doctorate in Physical Therapy from Widener University in Chester, Pennsylvania. It was after this time that she began to see clients in their homes and later, at her own home. 


She demonstrated a steadfast commitment to the profession with not only her personal time and efforts through the years as an APTA member but with her dedication to her various roles within APTA Maryland. Carol was a delegate in the APTA House of Delegates for many years and served as Chief Delegate, Director of Government Affairs, Western District Chair, Federal Affairs Liaison, and Director for Reimbursement.

At the state level, Dr. Zehnacker served for ten years on the Maryland Physical Therapy Board of Examiners. At the national level, she served as the Federal Affairs Liaison and Government Affairs Committee Chair for the Home Health Section. In this role she advocated fiercely against administrative burden and regulations that hamper PTs ability to provide quality care which can lead to provider burnout. 

Dr. Zehnacker has been acknowledged by her colleagues for outstanding service to the profession of physical therapy and has been awarded the APTA Maryland Henry O. and Florence P. Kendall Awardee in 2005; the Richard T. Peret Distinguished Service Award in 2018; the Stephen Levine Award in 2019; and, by APTA with the 2021 Lucy Blaire Service Award.

Carol was an active participant in the community life of Frederick, MD. While maintaining her practice and teaching responsibilities, she served the Women's Giving Circle and on the Board of Directors of Heartly House for Victims of Domestic Violence.

Many members will tell you that Carol was the first to welcome them to the Maryland Chapter and the profession. Friends and colleagues will tell you that Carol was passionate, entertaining, inspiring, and a champion for the profession and tireless advocate for her patients. 
Carol passed away on November 21, 2021 after battling Amyotrophic Lateral Sclerosis – Lou Gehrig's Disease. Always striving to care for others, she continued to see patients in her home until she physically was no longer able.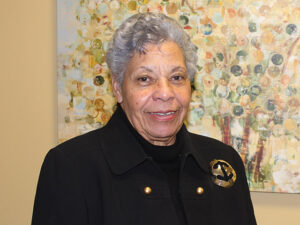 In honor of Women's History Month, we celebrate Dr. Senora Simpson. We conducted a recent interview and asked:
What's one word to describe you? Why? Intense. I have lived through so many changes, both professionally and personally. I don't have many more days to make a difference and I don't think I have done enough.
What women inspire your work today? All women! I don't have a single person. Each one is unique on their own and bring something to the table. I don't idolize an individual. People who are sincere and don't do things for attention inspire me.
What opportunity or accomplishment are you most proud of? Believe it or not – Living through a knee replacement. I was not prepared and I apologize to every patient with knee replacement I treated.
What would be your advice to girls out there that want to be where you are? Be yourself and do good for the right reason and at the right time. Not to benefit yourself.
APTAMD invites you to read the APTA Article,
This Is APTA: Senora Simpson, PT, DrPH
(Wednesday, February 26, 2020)
and be inspired by Dr. Simpson's life and career. You will see why her colleagues and students refer to her as  "unstoppable, courageous, and bold."
The following are excerpts from the article.
Senora Simpson, a clinician and educator, has been inspiring PTs for over half a century — first through her bravery as a PT struggling to pursue her career during segregation, and later as an influential educator, policy maker, and advocate for people with mental health and intellectual disabilities. She also was recognized with the Lucy Blair Service Award in 2008.
At Boston University's then all-female Sargent College of Allied Health Professions (now Sargent College of Health and Rehabilitation Sciences, Boston University), Simpson earned her bachelor's degree in physical therapy. She was one of two African American students in her class. Her professors included the late Margaret L. Moore, PT, EdD, and Helen K. Hickey, PT, MEd, who became mentors along the way. According to Simpson, Moore and Hickey, who later served as members of the APTA Board of Directors, were "very protective" of her, because, as an African American woman, her "chances of success were slim." In fact, Hickey would not allow her to complete an affiliation at DC Children's Hospital because she feared that Simpson would be failed due to racial bigotry. Instead, she sent Simpson to Cooley Dickinson Hospital in Northampton, Massachusetts — a fortuitous move, because there she learned the groundbreaking technique of spine and joint manipulation and became quite skilled at manual muscle testing while treating patients with polio.
From Hands-on Clinician to Testing New Models of Care
After a stint at Goldwater Memorial Hospital in New York City, part of the Rusk Institute of Physical Medicine, in 1959 Simpson moved back to D.C. to take a position as staff PT at D.C. General Hospital, beginning a more than 30-year career in government service. After nearly a decade at D.C. General, Simpson made the move from clinician to administrator, going on to develop the rehabilitation department at St. Elizabeth's Hospital, which served patients with mental illness. In 1965, the U.S. Department of Health, Education, and Welfare — precursor to the Department of Health and Human Services — began the Comprehensive Home Care Project, a demonstration project to see whether rehabilitation could be performed for older adults in their homes, which was a novel idea at the time. Until then, home health rehab outside the hospital setting was not an option. Simpson took on the role of overseeing this effort for the D.C. region, coordinating PTs, occupational therapists, and speech-language pathologists. Policy and administration appealed to Simpson, leading her to earn a doctorate in public health from University of Southern California in 1978. "I think about physical therapy differently [from how a clinician does]," she says, "because I think about the broader picture, about health care provision in a community, in a state."
"I Have To Be Part of the Solution"
Simpson began to pursue her master's in public health at The Johns Hopkins University while working at Forest Haven, an institution for people with intellectual disabilities. Her experience there as the first nonphysician head of health services inspired her involvement in the movement for deinstitutionalization for people with intellectual disabilities.
Many Hats
Although she retired from the federal government and her 25-year evening private practice many years ago, Simpson is assistant professor at Howard University and previously taught at George Washington University. "Students and their interest in learning are keeping me alive!" she declares. "They are teaching me things. But I'm tough. I don't do extra credit. I don't do anything that won't result in a good clinician." She also spent 15 years on the D.C. Board of Physical Therapy, including as chair. Throughout her career, Simpson has remained involved with the D.C. Chapter of APTA, at various times holding the offices of president, membership committee chair, secretary, and delegate. The chapter even named an annual award for her: the Senora Simpson Service Award.
"Part of the reason I joined APTA was to raise hell [about Medicare]. It was so much fun. I recently went down to [Capitol Hill to] testify in favor of the Physical Therapy Compact! That [willingness to speak up] is what I want to see in all health care providers. Get out of smoothing salve on people, and improve the health of America [through advocacy]."
>>Access the full article