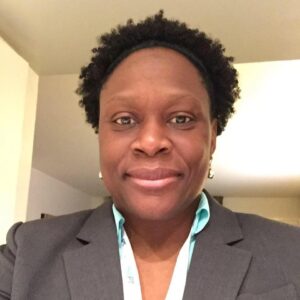 Monique Caruth is an entrepreneur, mentor, advocate, and leader for the profession and the chapter. With Monique's support and guidance, the chapter has engaged in innovative and integral changes to enhance the chapter's mission and vision. This includes helping to create educational programming on diversity, equity, and inclusion and social determinants of health, serving as a mentor to students and early professionals, and actively working to guide the chapter in our efforts to inspire future leaders from diverse backgrounds.
As part of women's history month, we conducted an interview with Dr. Caruth on her path to PT and her passion for paying it forward.
What's one word to describe you? Why?
Evolving, because I realize that I don't know everything and even my opinions re subject to change. But my principles stay steady. We live in a world where the majority of people don't lean in to understanding the background of others and that is the root cause of racism and xenophobia in our society.
What women inspires your work today? Why?
If I go back to childhood, I would pick my mother. Growing up I didn't quite understand how much she sacrificed. She got pregnant with me at 20 and 2 years later she had my sister and then 4 years after my younger sibling. She was a 25-year-old new wife and mom with no high school education. My dad had limited high school education too. They were able to sacrifice and work hard so we were well educated which they saw as key to our future. My siblings and I were all college educated and raised with love, encouragement, unconditional love, and support.
I recently came out and declared that I am a lesbian. Growing up in a very spiritual home in the Caribbean, I was afraid of disappointing my mother and it was such a huge relief that she embraced me with unconditional love. That has inspired me even more. I am more open, and more content and the reason is that I know no matter what happens, I have her love.
What opportunity are you most proud of to date? Why?
I enjoy being with students. I know how challenging it was when I was seeking a mentor during and after PT school. I had a desire to own my own business and was shot down by a lot of people. I try to be the mentor that I didn't have to inspire those interested in being a business owner in the PT field, sharing the realities and helping them to find a balance. This is what I enjoy the most so far.
I am so grateful that APTAMD took the initiative to create a DEI space and develop a mentorship program where I can inspire others including high school students. I am blessed to share the value I see with others as well because you see more engagement in membership.
What would be your advice to girls out there that want to be where you are?
You have to believe in yourself. In each and every one of us, we have desires, and we question them. You can get stuck in focusing on what other people think of you and your decisions, so I advise them to believe in yourself, trust that you have a purpose to fill, surround yourself with people who will love you and encourage you and help you find open doors to advance your personal goals and dreams.
Monique serves as the Maryland Board of Director's Secretary in addition to being Secretary for the APTA Home Health Section. In addition, she is the owner of Dr. Monique J. Caruth, LLC/LTD, a minority-owned, women-owned and operated rapidly growing staffing group providing nursing, rehabilitation and social work services in the DMV.