Inspiring Others and Leading the Way
Highlighting the excellent work provided by one of our active PTA members. The articles will provide insight on why membership is important and how one views their career as a PTA.
November Spotlight – Kelly Yeager, PTA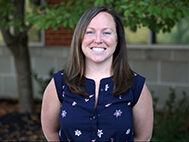 The Journey Begins
Growing up, I was always pretty active and I knew I wanted a career where I was helping people directly. I wasn't sure if it was through healthcare or service, but I knew I wanted to make a difference in the lives of people in my community. While attending college, I decided to shadow a PTA and talked with a PT. It was a perfect match, a career where I could be hands-on and active! I attended graduated from the CACHE program in 2009, from Towson University with my Bachelors in 2015, and from Widener University with my Masters in 2020.
I have practice experience in general outpatient and in skilled nursing but my passion was found in being the academic coordinator for first Howard community college and most recently, Cecil College. I've been practicing PT since 12 years and Teaching for 7 years. I get to make connections over 3 states and build relationships with many physical therapy companies, providing students and alumni with opportunities during and after graduation. 
Membership Matters
I've maintained a membership with the APTA since CACHE because I believe in that our profession can do amazing things, but it needs the voices of those who want to take action. Membership in this organization keeps me up to date with the newest changes, which I then can relay to students, clinical instructors and clinical affiliates.
Being a PTA
I view my profession as a PTA as a journey, a passion and a blessing as it's provided me with a living, wonderful opportunities and the ability to meet a lot of amazing patients and therapists! 
Kelly Yeager is the APTA Maryland's PTA Caucus Representative and Member of the Board of Directors.