October is
National Physical Therapy Month
Health, Equity, Accessibility, and Literacy (HEAL) is how we engage the community through service opportunities to create positive change in the communities we serve.
Join us throughout October to celebrate NPTM through service.
Online office hours, consultation
Virtual education for assisted living/older adult communities
Mental health awareness & Self-care for PTs/PTAs
Food Pantry and Donation Stations
Marine Corp Marathon Volunteers

Have a volunteer opportunity to add?
Contact the chapter to share information and ideas.
We provide updates on volunteer opportunities and discuss new partnerships during our monthly DEI committee meetings, the 2nd Thursday of the month at 7:30 pm.
Members can get the link to join the conversation at My APTAMD>>Workspace>>Diversity, Equity, ad Inclusion Committee. 
We are piloting programs with Baltimore City and Baltimore County with the intent to expand to other Maryland communities. If you would like to submit a possible collaboration or event, please contact the chapter. 
Volunteers: You do not have to live or work in the area to volunteer and membership is not required.  However, you you do need to be a member to attend committee meetings. 
We are connecting Baltimore County Providers and Clinics with the local opioid intervention team. They provide training and resources for clinicians who have patients at risk for or with an opioid addiction.
Overdose Response Program at SPARC – a harm reduction drop-in center for women, and all other non-male identities, offering a syringe service program, naloxone distribution, case management, reproductive health, mental health services, and other basic needs. They are looking for PTs to come out and provide screenings and to discuss  new strategies for pain management. (Located in Pigtown / S. Baltimore)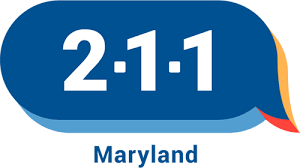 Maryland's 211 system is a statewide resource that connects residents to health and human resources through the telephone, Internet, and text message.  You can search for help online by category or connect directly. 
It is also a resource for government officials to make information available to Marylanders in the event of natural disasters or man-made incidents and a way for Marylanders to connect with opportunities to offer help to others.
FREE. CONFIDENTIAL. 24/7/365
Addressing Social Determinants of Health
Join us for our Annual Conference on November 13th for a panel discussion on how providers can address social determinants of health  and psychosocial factors on health disparities and inequities. Research shows that gender, race, ethnicity, level of education, environment, access to transportation, employment, socioeconomic status, and insurance are all factors that affected the likelihood of physical therapy use and recovery. 
Implicit Bias - Knowing your Blind Spots
Join us for our Annual Conference on November 13th for a panel discussion on implicit and unconscious bias. This course will explore racial and ethnic disparities in health status, health care, and physical therapy.
It will also review social vulnerabilities from these inequities including substance use disorders to treat acute and chronic pain.